[SPOILER ALERT]
It's no secret that each season of American Horror Story is connected. Creator Ryan Murphy has confirmed it himself, and he's made sure some of our favorite characters pop up in multiple installments of the zeitgeist-shaping anthology. This week's Season 7 premiere even brought back one of the creepier faces, when Twisty the clown busted up a very familiar lakeside hookup.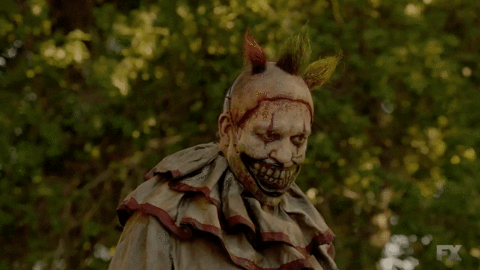 But one small character may be connected in a big way.
This season focuses on Ivy and Ally Mayfair-Richards, a lesbian couple struggling to keep it together in the aftermath of the 2016 presidential election. While one deals with her coulrophobia (fear of clowns) and an actual cult of clowns terrorizing her, her partner and their young son Oz try to keep her sane. But with the addition of Winter, a sadistic nanny (and low-key cult member) in their lives, that's not likely going to be easy.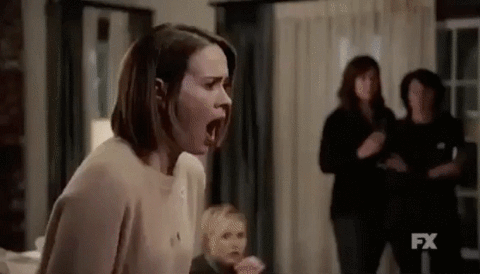 If you're as intrigued by this season as we are, one of your biggest suspicions might be why this clown cult is terrorizing this family specifically. One line in particular might have given us a hint. When Winter asks Oz who his "real mommy" and dad are (to which he doesn't seem to know the answer), it may have just come off as an offensive question from someone being brainwashed by a Trump supporter. But it could have a lot to do with the cult's intentions with the Mayfair-Richards family.
If you remember a certain scene in the first season finale, Oz is about the right age to be baby Michael, the Antichrist spawned in Murder House. Given the series' unfortunate treatment of characters portrayed by Jessica Lange, it's not much of a stretch to imagine that Constance Langdon became incapable of caring for a child in the years since then, and that said child ended up in the care of a nice lesbian couple. And since it was revealed that Ally's phobia is rooted in her trauma stemming from 9/11, one could also imagine she and Ivy had moved to California for a few years to escape the stress of New York (as New Yorkers seem to do these days) before settling down in Michigan – but not without a new addition to their family.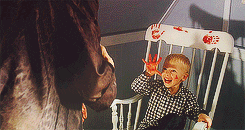 Let's not forget that the last time we saw baby Michael, he had just murdered his babysitter. And it appears young Oz has an unhealthy fascination with the murderous Twisty.
Knowing this, Oz would make an awfully convenient target for a cult of anarchic clowns looking for someone to help them release chaos into Trump's America. And it would genuinely explain Winter's interest in Oz's birth parents – as well as why she insists on showing him snuff videos and actual clowns murdering his neighbors.
It was certainly too important of a character that had obviously been burning a hole in Ryan Murphy's narrative pocket. What better time to bring him back than when the show is dealing with such a real evil?
Facebook Comments